Making it easy to transport material and remove dead birds with a poultry trolley system.
Making it easy to transport material and remove dead birds with a poultry trolley system.
The Chicken Reaper will not only save your back but also reduce the amount of time spent per day walking each house. Whether you need to remove mortality, set out trays for supplemental feeding, or transport a replacement fan motor to the far end of your house, it's there for you.
The Chicken Reaper runs on a 2×6 wood track that is readily available at your local lumberyard and easy to install. This simple and sturdy track is a completely remote powered system starting under $4,000.
Contact us or get a custom quote to learn more about how you will benefit from adding the Chicken Reaper to your poultry operation!
Poultry Equipment Designed For You!
Metal corners complete loop system, turn rail 90 degrees, run trolley to sidewall.
Suitable for wider houses, low sidewalls, ensuring clearance for live haul.
Manual dump box or tray for (10) 5-gallon buckets. Adjustable height via snap pins for litter buildup and fence clearance.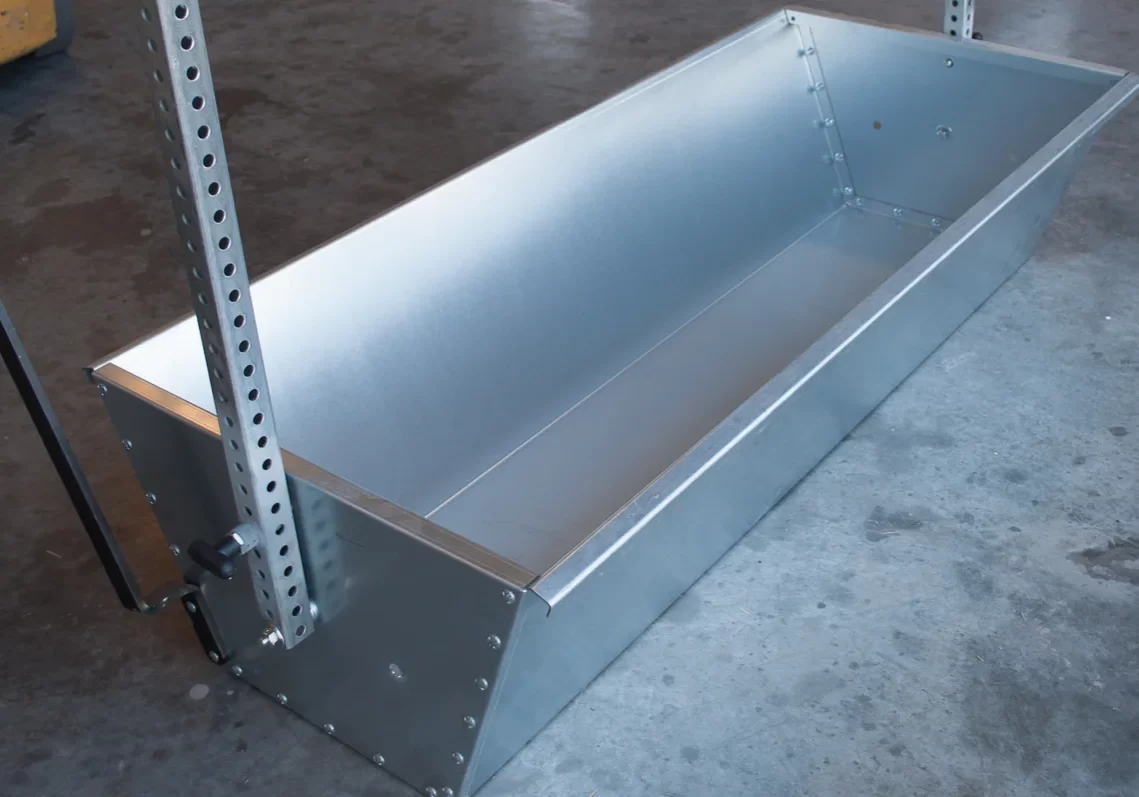 Fill tray, move, dump; ideal for larger birds, turkeys, feeding.
Drop brood curtains swiftly, tool-free design: Remove bridge, flip stop tube.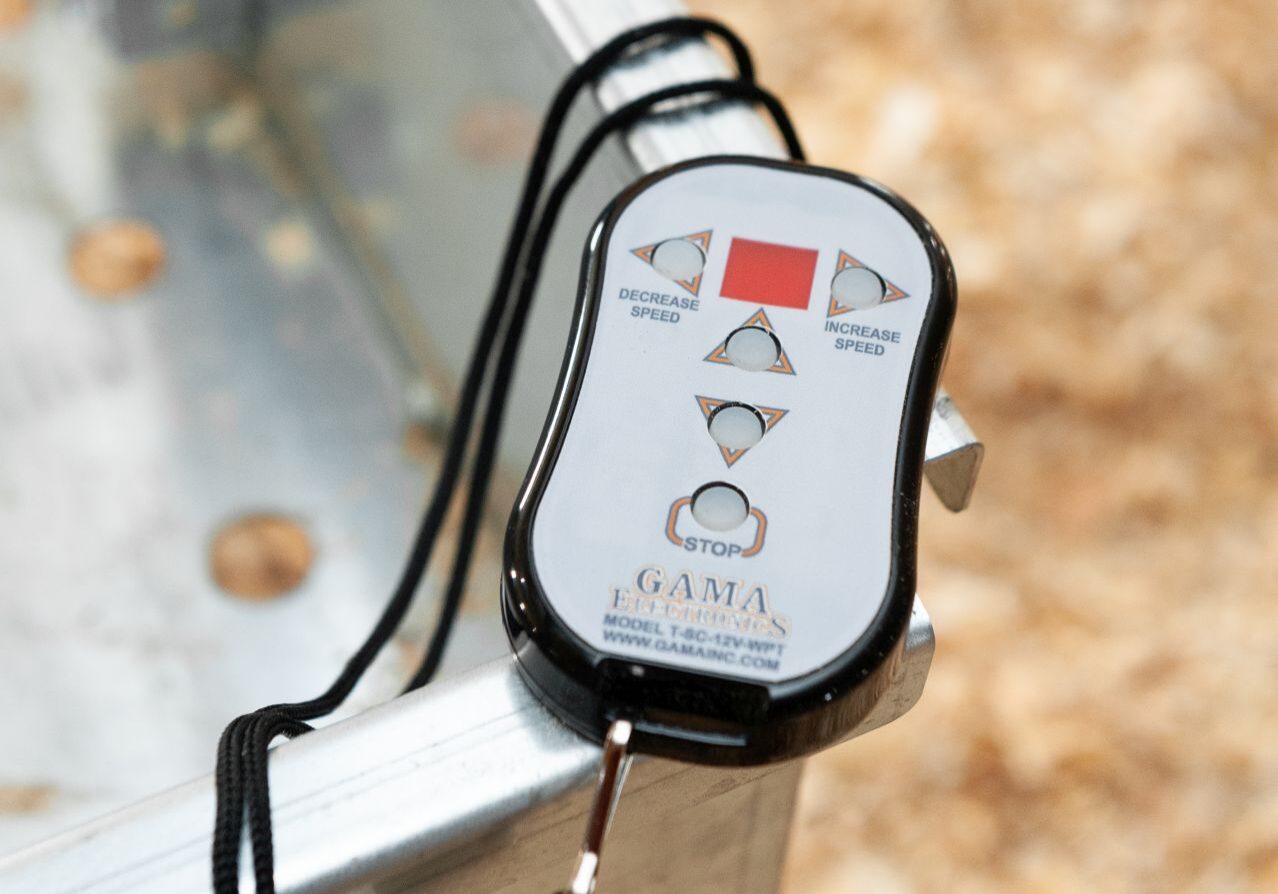 Full trolley control - forward, reverse, stop, speed.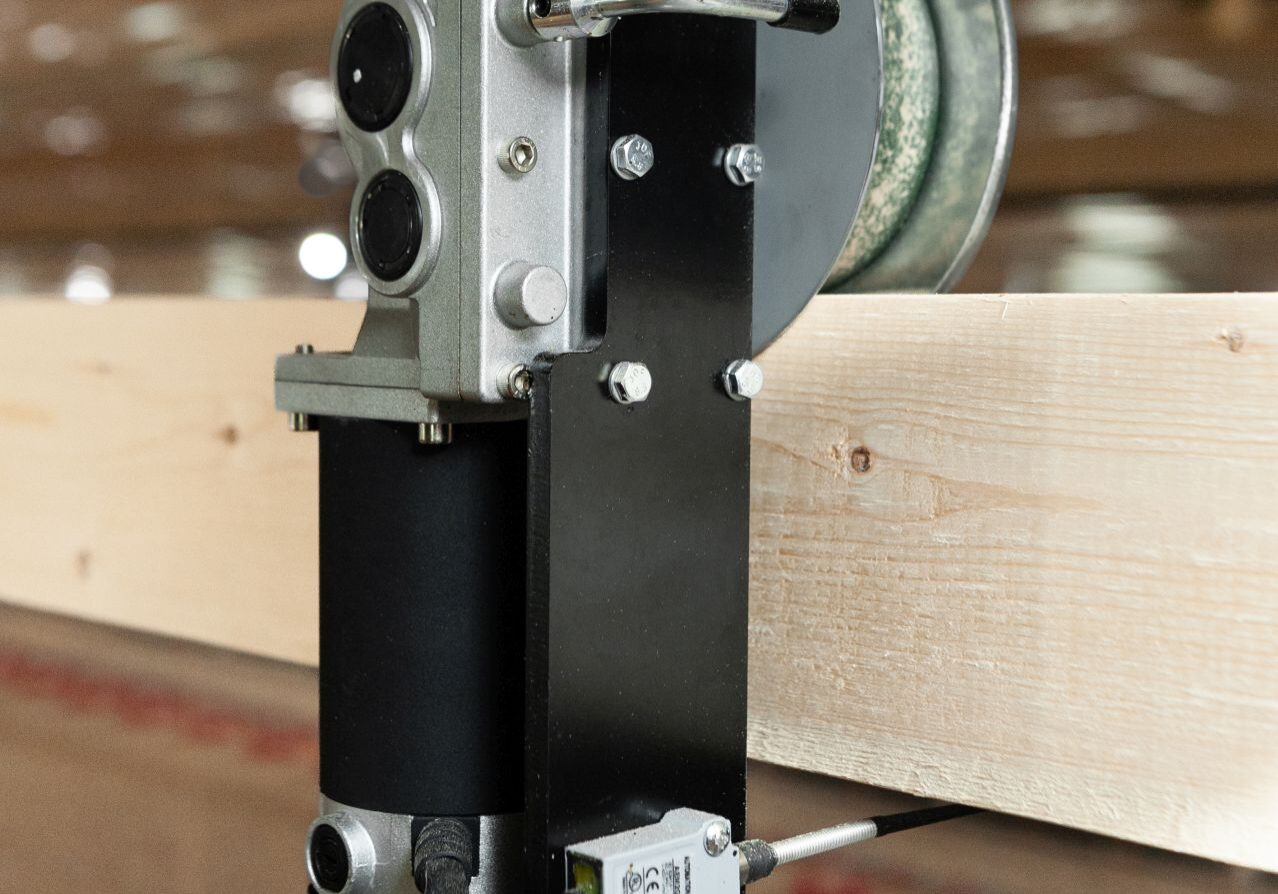 24V gear motor powers trolley, disengage for manual push, durable polyurethane wheels.
On-board 24V lithium battery offers thousands of charge cycles, lasting 4-5 days based on track length.
Here's What Others Have To Say About The Chicken Reaper
"I don't know how I did birds before the Chicken Reaper. Carrying buckets daily through the houses was taking its toll on my back. I dreaded doing my daily walk-throughs when the birds were in their last weeks. After my first use of the Chicken Reaper it confirmed we made one of the best investments on our farm. I truly do not know how I managed to do birds before the Reaper. It is easy to use with little maintenance. If you are thinking about making the investment, do it. You will have no regrets."
Donna Long - Pennsylvania
"The Chicken Reaper has been one of the best investments we have ever made. We grow a big bird sometimes over 10
pounds. It was becoming very difficult for us physically, even though our mortality is normally not very high, to pick up
the dead. Now with the chicken reaper to carry the load we are not having the knee and back problems we were having. We looked at similar systems before we decided to buy the reaper. For the quality and the price we believe it is the best system out there. We would never go back to growing chickens without our Chicken Reaper."
David & Alene Robinson - Mississippi
"This is definitely one Reaper not to fear. The main use for the Reaper is to remove mortality while reducing the wear and
tear on your body. It has many other uses: carrying box lids for placement and removal, carrying tools to do maintenance or repairs, and, carrying feed for box lids. Also with its construction it is easy to add accessories like hooks and a small toolbox. Does it save time? a little.. does it make a mundane job easier? YES! Another thing it is the farm hand that does not call in sick, not show up and want more money etc. It is an investment to make your job easier and help you be more efficient. I will say it is one of the best investments we have done in our houses. Don't fear the Chicken Reaper!"
Wood Track Reduces the Cost of Your Poultry Trolley System
The truss brackets are secured to the bottom of every truss with (2) GRK fasteners. A coated steel hanger bracket then attaches the 2 x 6 wood rail to the truss bracket. The rail is fastened to every truss, distributing the weight evenly across all trusses, resulting in a solid rail that evenly distributes weight across all trusses. This simple rail system significantly reduces the cost of installing a trolley system in your poultry house. Additionally, since the rail lumber is sourced locally, shipping the Chicken Reaper is very economical. For wider houses, a metal rolled tube corner enables you to install a circular track.
We Make A Poultry Trolley System Simple
Tell us about your needs and goals.
We help find the solution that's right for you.
We provide a quote with purchasing and shipping details.
Purchase your machinery and revolutionize your operation!
Why Work With Harvest Pro Mfg?
With over 3 generations of experience in the manufacturing and produce industries, Harvest Pro Mfg has the experience and ingenuity to take your operation to the next level!
Poultry Equipment Done Better
Introducing the Chicken Reaper, your solution to save time and spare your back in poultry house operations. Whether it's mortality removal, setting out trays for supplemental feeding, or transporting equipment across your house, the Chicken Reaper is your dependable companion. It operates effortlessly on a readily available 2×6 wood track from your local lumberyard, making it a cost-effective choice for modern poultry houses. Discover how the Chicken Reaper can transform your poultry operation today!
- Everything you need for the complete system, except the rail lumber. Fasteners, bolts, nuts, and more are all included!
- Secure truss brackets with (2) GRK fasteners to the bottom of each truss.
- Coated steel hanger brackets attach the 2 x 6 wood rail to the truss bracket.
- Fasten the rail to every truss for even weight distribution, reducing installation costs
.
- Sourced
locally
, the rail lumber keeps shipping costs
economical
.
- For wider houses, a metal rolled tube corner allows you to install a circular track.
- Metal corners complete the loop system or
facilitate
a 90-degree turn on a single rail installation, guiding the trolley to a sidewall
.
Adjustable Height Corner:
- Designed for wider houses or those with lower sidewalls, ensuring clearance for live haul and equipment
.
- Equip the Chicken Reaper with a manual dump box or bucket tray, capable of transporting up to (10) five-gallon buckets
.
-
Easily
adjust the tray height to accommodate varying litter levels between flocks, ensuring proper clearance for migration fences
.
- This
user-friendly
system features a heavy-duty handle dump box for convenient disposal.
- Ideal for removing larger birds, turkeys, and supplemental feeding tasks.
- Drop brood curtains
effortlessly
with this tool-free design.
- Remove the bridge and flip the stop tube in place on top of the rail for quick curtain adjustments.
- Control the Chicken Reaper with a robust, waterproof remote transmitter.
- Manage forward, reverse, stop, and speed adjustments
remotely
to keep your trolley
precisely
where you need it
.
- A 24-volt gear-driven motor empowers the Chicken Reaper to move
effortlessly
throughout the house
.
- The gear box
is equipped
with a disengage lever, allowing easy manual operation in case of a dead battery.
- Tough polyurethane wheels ensure durability and smooth rolling.
- The on-board 10 amp-hour, 24-volt lithium battery and charger offer thousands of charge/discharge cycles
.
- Enjoy 4-5 days of operation on a single charge, with duration dependent on the track's length.