A self-propelled machine for faster produce harvesting and weeding without breaking your back.
A self-propelled machine for faster produce harvesting and weeding without breaking your back.
Are you frustrated by the time it takes to harvest strawberries, weed your patch, or plant smaller produce in less time and with less back pain?
Are you worried about not having enough help or time to harvest your whole strawberry patch properly?
The RoHand II offers a way to cover more ground, harvest faster, and cover larger areas of ground in shorter time, less labor, and reduced back pain!
A Strawberry Harvester Machine Designed For You!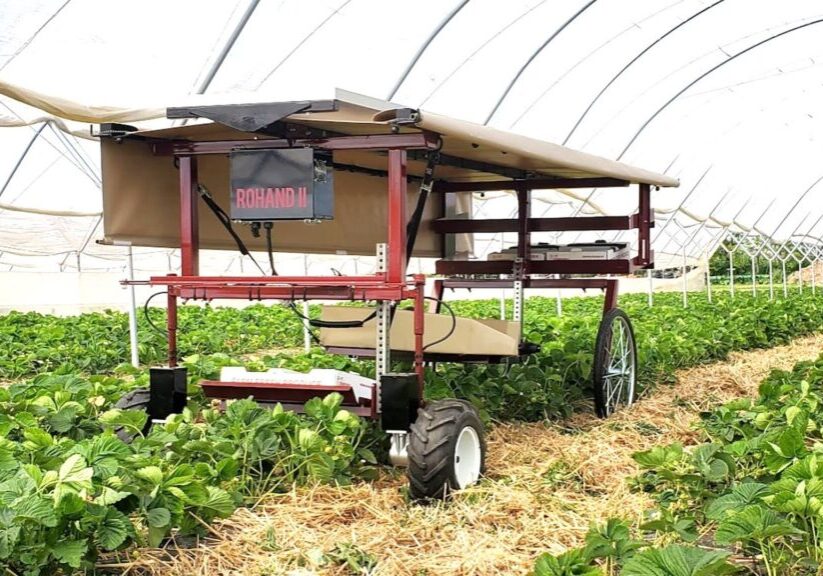 Adjustable platform that can hold up to 300 pounds.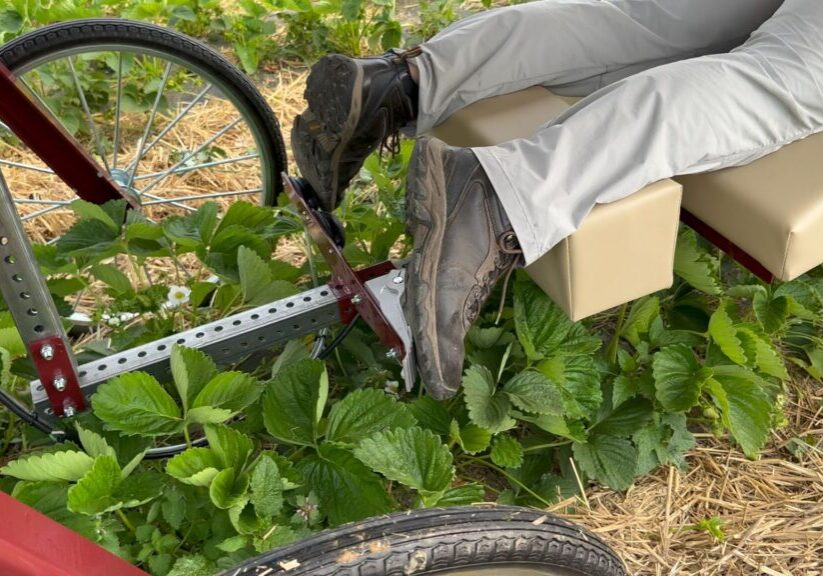 Foot controls and steering for hands-free work.
Front-wheel, variable speed, direct-drive motor.
Adjustable-width frame and height for better clearance.
Power steering actuator controlled by the feet.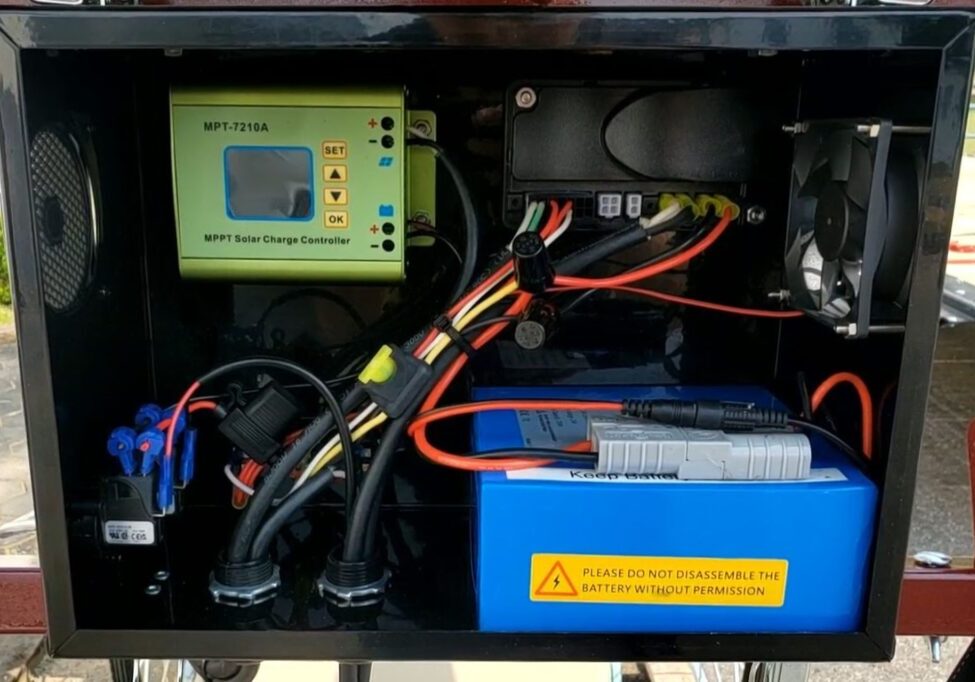 Battery-powered with a hard solar panel for better charging.
Roll-down sun and weather shades.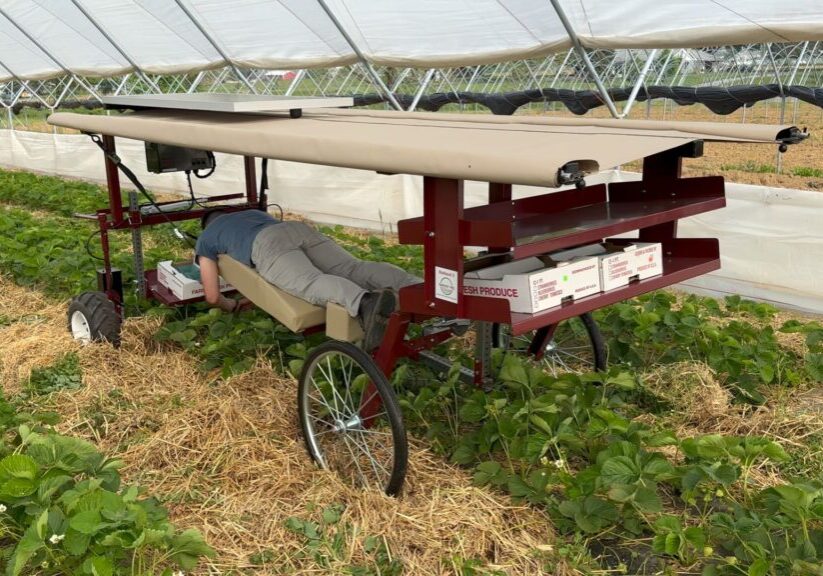 Rear storage racks for produce, plant trays, etc.
Watch What Others Have To Say About The Rohand II
It's more than just strawberries...
The RoHand II helps more than just strawberry farmers. It's adjustable clearance and design makes it ideal for a range of applications for fruit and vegetable growers, including:
Planting various produce
Weeding smaller plants
Strawberries
Onions
Asparagus
Any smaller-sized produce!
Our valued RoHand dealers:
RoHand II Harvester Standard Features:
Top rolls down for protection from rain or sunshine.
Solar and electric motor driven. Environmentally friendly
Compact lithium-ion battery for years of reliable power
Plant, maintain, and harvest produce with minimal strain and stress
Robust movement control for soft start/stop and overheating protection.
Hands-free operation, all movements, and steering are controlled by foot pedals.
The 4-wheeled design provides stability and easy operator access
Fully adjustable operator platform and head support for operator's all-day comfort and convenience.
Fully adjustable row width and height for a variety of vegetables or berry picking in the row-type planting arrangement.
1-year guarantee against manufacturer's defects.
Extra features available:
LED lights for after-dark work
LTL shipping to anywhere in the USA
Delivered in a single skid with easy assembly!
We Make A More Efficient Strawberry Harvest Simple
Tell us about your needs and goals.
We help find the solution that's right for you.
We provide a quote with purchasing and shipping details.
Purchase your machinery and revolutionize your operation!
Why Work With Harvest Pro Mfg?
With over 3 generations of experience in the manufacturing and produce industries, Harvest Pro Mfg has the experience and ingenuity to take your operation to the next level!
A Strawberry Picking Machine Done Better
What if you could increase your profits with less labor? If you could increase your productivity and save your aching back all with one innovative machine? Consider the Rohand II. No doubt you've thought about it that spending hours bent over planting or picking is killing your time, your back and even affecting your profits. It doesn't have to be that way!
The RoHand II is designed with strawberry harvesting and the produce farmer in mind. It is lightweight but rugged. It is solar-energized but is powered with a lithium battery so it can run rain or shine. It is open and airy but has drop sides to keep out the rain when the weather is dreary. It is compact but has all the storage room you need for hours of row life. You'll soon see why we call it RoHand… because it will soon be your Row Hand!
The RoHand II is powered by dual 24 V, DC gear motors. This direct drive power is delivered to both front tires. The aggressive, bar-type tread will power through almost any field condition. A disengage lever on the motor allows the RoHand II to be taken out of gear to be pushed or towed in the event of mechanical failure.
Travel speed and steering are controlled via foot switches leaving both of the operator's hands-free for harvesting, weeding, planting, pruning, etc. The high-quality full throttle and control system, gives the operator precision control over the speed of the machine.
The travel speed of the RoHand II can be varied from a scarcely moving crawl to a brisk clip. This allows the machine to be driven from one location to another in a short time. The unique design of the operator platform and headrest provide great visibility and maneuverability. The platform can quickly and easily be adjusted for different height crops and different size operators. The padded headrest wraps around the operator's head to comfortably support the operator's head and neck. Large-diameter rear tires roll easily through mud or heavy organic matter, reducing the wattage load on the drive system.
A power steering actuator allows the operator to control the steering of the RoHand II by foot petals. This keeps both hands free at all times and makes staying centered on the row a breeze. A sharp turning radius makes turning around at the end of the row quick and easy. The picking tray is located directly in front of the operator, within easy reach of both hands. The tray can be adjusted to keep it close to the crop that is being harvested minimizing the amount of time it takes to place a picked item in the tray.
A wide-open frame design gives plenty of clearance for a wide variety of crops and applications. The wheel spacing can be adjusted to several widths to accommodate different row spacing.
A roof-mounted solar panel provides the charging power for the lithium–ion battery system. The solar panel is constantly charging the battery during daylight hours so the RoHand II is always ready to work.
In the event that the solar charger doesn't keep pace with the utilization of power, the lithium battery pack can be removed and recharged with a 115 V wall charger. The lithium-ion battery pack weighs much less and will provide many more charge/discharge cycles than a lead acid-type battery system. Trays at the rear of the RoHand II provide room for the operator to store additional flats of strawberries and other products while protecting them from the rain or sun.
Most of the adjustments to the RoHand II can be done quickly and easily without the need for wrenches or tools. This makes changing operators or applications an efficient process.
The simple investment of a RoHand II will turn what was a backbreaking part of your routine into a pleasurable experience.