Simplifying the process of removing deceased birds with our advanced chicken farming equipment
Simplifying the process of removing deceased birds with our advanced chicken farming equipment
Our chicken farming equipment will not only save your back but also reduce the amount of time spent per day walking each house. Whether you need to remove mortality, set out trays for supplemental feeding, or transport a replacement fan motor to the far end of your house, it's there for you.
Our poultry farming equipment runs on a 2×6 wood track that is readily available at your local lumberyard and easy to install. This simple and sturdy track is a completely remote powered system starting under $4,000.
Contact us or get a custom quote to learn more about how you will benefit from adding this chicken farming equipment to your poultry operation!
Poultry Farming Equipment Designed For You!
Metal corners complete loop system, turn rail 90 degrees, run trolley to sidewall.
Suitable for wider houses, low sidewalls, ensuring clearance for live haul.
Manual dump box or tray for (10) 5-gallon buckets. Adjustable height via snap pins for litter buildup and fence clearance.
Fill tray, move, dump; ideal for larger birds, turkeys, feeding.
Drop brood curtains swiftly, tool-free design: Remove bridge, flip stop tube.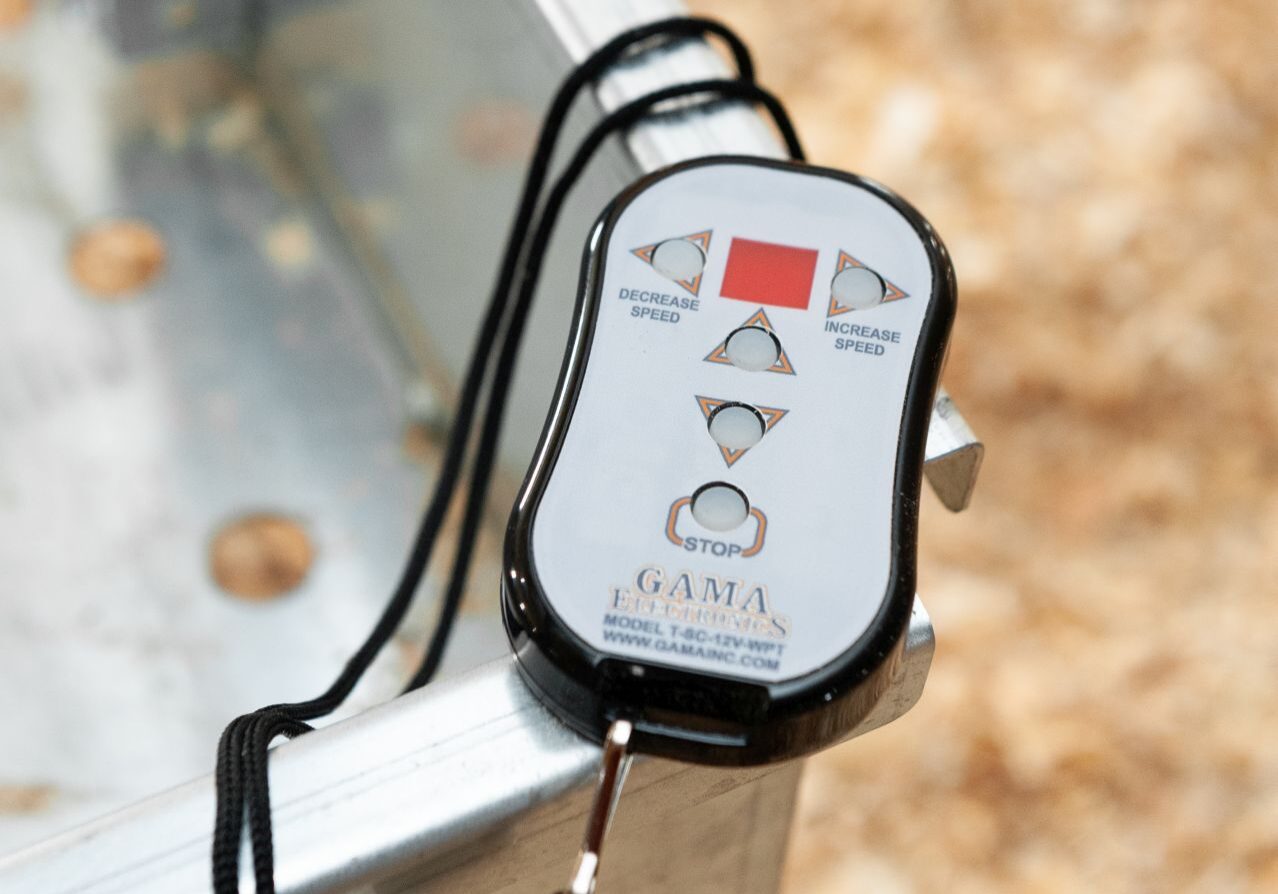 Full trolley control - forward, reverse, stop, speed.
24V gear motor powers trolley, disengage for manual push, durable polyurethane wheels.
On-board 24V lithium battery offers thousands of charge cycles, lasting 4-5 days based on track length.
Here's What Others Have To Say About Our Poultry Farming Equipment
"Today the Chicken Reaper saved me about 4,000 feet of walking, so from setup to full house that's about 12,000 feet for two houses. Great system would not be practical without the wonderful remote. We use the Reaper as a service vehicle hauling tools, parts etc., moving birds, and also at setup. It serves as a taxi when flushing water lines and triggering water nipples etc, the actions that insure the nipples are working properly. Like I mentioned the remote control is the key operational feature, just use the imagination to expand its time saving and labor benefits in the poultry house, moving mortality is just one feature."
"Thank you for our Chicken Reaper!!! This is the best product I have seen hit the chicken house in years! I have one now and as the money becomes available we will have 7 more."
Katie & Kere Wade - Biddy City Farms
We Lower the Cost of Your Poultry Farming Equipment by Running It on a Wood Track
The truss brackets are secured to the bottom of every truss with (2) GRK fasteners. A coated steel hanger bracket then attaches the 2 x 6 wood rail to the truss bracket. The rail is fastened to every truss, distributing the weight evenly across all trusses, resulting in a solid rail that evenly distributes weight across all trusses. This simple rail system significantly reduces the cost of installing a trolley system in your poultry house. Additionally, since the rail lumber is sourced locally, shipping the chicken farming equipment is very economical. For wider houses, a metal rolled tube corner enables you to install a circular track.
We Make Chicken Farming Equipment Simple
Tell us about your needs and goals.
We help find the solution that's right for you.
We provide a quote with purchasing and shipping details.
Purchase your machinery and revolutionize your operation!
Why Work With Harvest Pro Mfg?
With over 3 generations of experience in the manufacturing and produce industries, Harvest Pro Mfg has the experience and ingenuity to take your operation to the next level!
Poultry Farming Equipment Made Right
Presenting our cutting-edge chicken farming equipment, a time-saving and back-friendly solution for poultry house operations. Whether it's mortality removal, setting out trays for supplemental feeding, or equipment transport, our innovative equipment is your reliable companion. Effortlessly operating on a locally sourced 2×6 wood track, it offers a cost-effective choice for modern poultry houses. Explore how our chicken farming equipment can revolutionize your poultry operation today!
Poultry farms, characterized by the rearing of chickens for meat and egg production, are integral to the global agricultural landscape. However, the demands of poultry farming come with challenges, including labor-intensive operations and the need for meticulous management. Efficient poultry farming equipment emerges as a transformative solution, offering a myriad of benefits for farmers.
Advanced equipment, such as automated feeders and waterers, streamlines daily operations, ensuring a consistent and efficient supply of essential resources for the birds. Precision in tasks like egg collection and waste removal is achieved through the use of specialized machinery, reducing manual labor and increasing overall productivity.
Moreover, the health and well-being of the poultry flock are enhanced with the deployment of modern equipment. Climate-controlled housing, ventilation systems, and biosecurity measures contribute to a healthier environment, minimizing the risk of diseases and improving the overall quality of the produce.
In essence, efficient poultry farming equipment not only optimizes operational processes but also promotes sustainability and profitability in the poultry farming industry. The adoption of advanced technology represents a significant stride towards a more streamlined, humane, and economically viable approach to poultry farming.
- Everything you need for the complete system, except the rail lumber. Fasteners, bolts, nuts, and more are all included!
- Secure truss brackets with (2) GRK fasteners to the bottom of each truss.
- Coated steel hanger brackets attach the 2 x 6 wood rail to the truss bracket.
- Fasten the rail to every truss for even weight distribution, reducing installation costs
.
- Sourced
locally
, the rail lumber keeps shipping costs
economical
.
- For wider houses, a metal rolled tube corner allows you to install a circular track.
- Metal corners complete the loop system or
facilitate
a 90-degree turn on a single rail installation, guiding the trolley to a sidewall
.
Adjustable Height Corner:
- Designed for wider houses or those with lower sidewalls, ensuring clearance for live haul and equipment
.
- Equip the Chicken Reaper with a manual dump box or bucket tray, capable of transporting up to (10) five-gallon buckets
.
-
Easily
adjust the tray height to accommodate varying litter levels between flocks, ensuring proper clearance for migration fences
.
- This
user-friendly
system features a heavy-duty handle dump box for convenient disposal.
- Ideal for removing larger birds, turkeys, and supplemental feeding tasks.
- Drop brood curtains
effortlessly
with this tool-free design.
- Remove the bridge and flip the stop tube in place on top of the rail for quick curtain adjustments.
- Control the Chicken Reaper with a robust, waterproof remote transmitter.
- Manage forward, reverse, stop, and speed adjustments
remotely
to keep your trolley
precisely
where you need it
.
- A 24-volt gear-driven motor empowers the Chicken Reaper to move
effortlessly
throughout the house
.
- The gear box
is equipped
with a disengage lever, allowing easy manual operation in case of a dead battery.
- Tough polyurethane wheels ensure durability and smooth rolling.
- The on-board 10 amp-hour, 24-volt lithium battery and charger offer thousands of charge/discharge cycles
.
- Enjoy 4-5 days of operation on a single charge, with duration dependent on the track's length.
We offer a variety of equipment for produce farmers, strawberry farmers, poultry farms, and much more!