A self-propelled apparatus for swiftly picking strawberries without putting strain on your back
A self-propelled apparatus for swiftly picking strawberries without putting strain on your back
Are you frustrated by the time it takes to harvest strawberries, weed your patch, or plant smaller produce in less time and with less back pain?
Are you worried about not having enough help or time to harvest your whole strawberry patch properly?
The RoHand II offers a way to cover more ground, harvest faster, and cover larger areas of ground in shorter time, less labor, and reduced back pain!
A Strawberry Picking Machine Designed For You!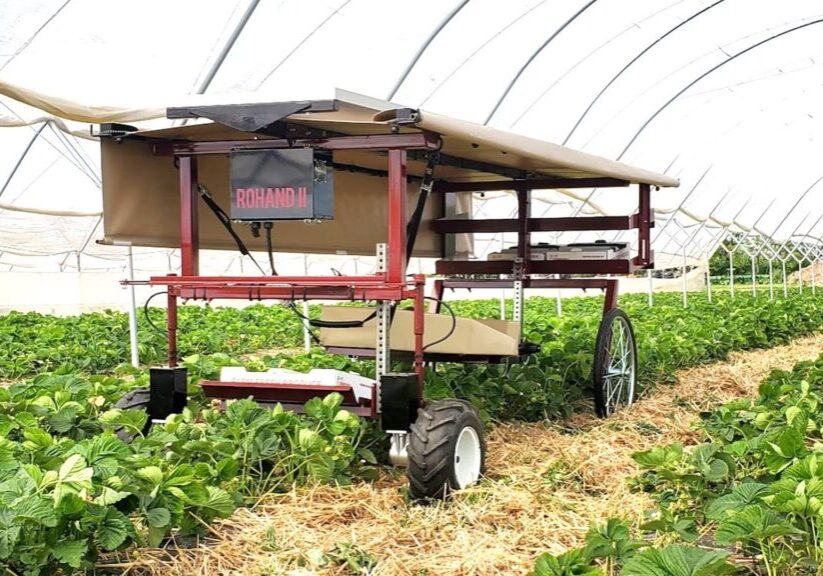 Adjustable platform that can hold up to 300 pounds.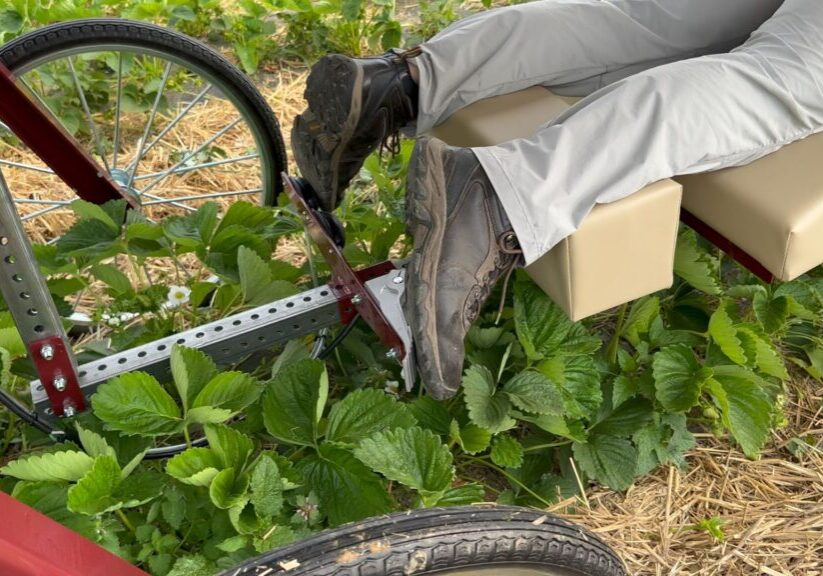 Foot controls and steering for hands-free work.
Front-wheel, variable speed, direct-drive motor.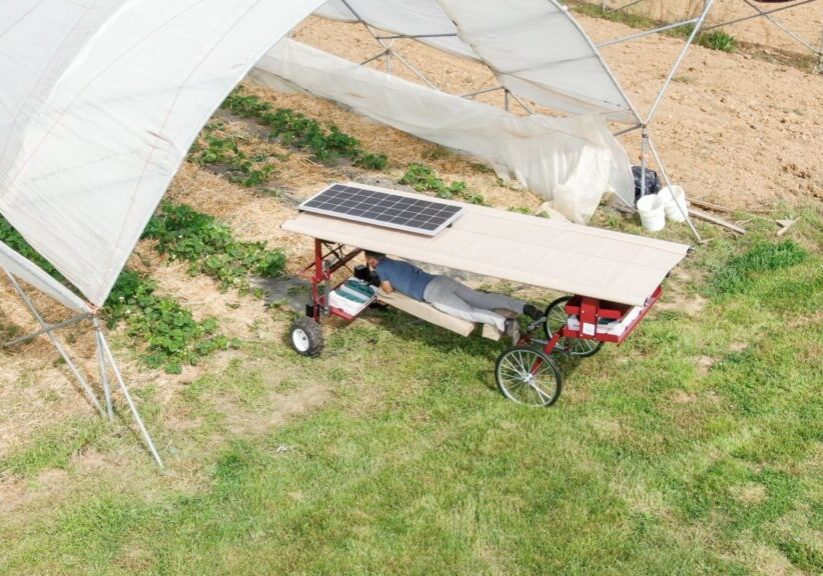 Adjustable-width frame and height for better clearance.
Power steering actuator controlled by the feet.
Battery-powered with a hard solar panel for better charging.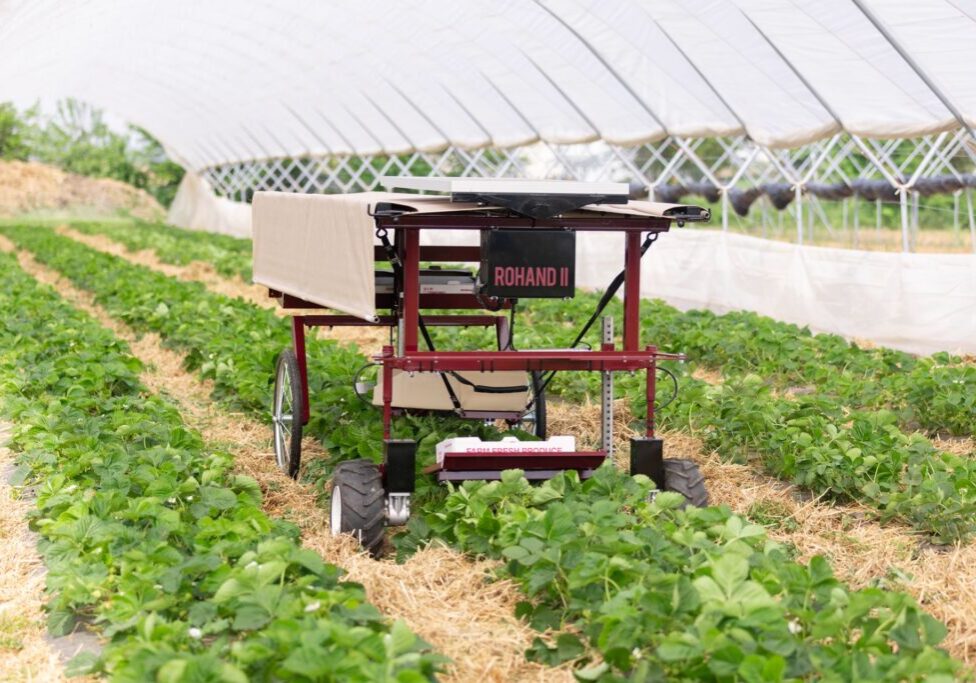 Roll-down sun and weather shades.
Rear storage racks for produce, plant trays, etc.
Watch What Others Have To Say About Our Strawberry Picker
It's more than just strawberries...
The RoHand II helps more than just strawberry farmers. It's adjustable clearance and design makes it ideal for a range of applications for fruit and vegetable growers, including:
Planting various produce
Weeding smaller plants
Strawberries
Onions
Asparagus
Any smaller-sized produce!
Our valued strawberry picking machine dealers:
RoHand II Harvester Standard Features:
Top rolls down for protection from rain or sunshine.
Solar and electric motor driven. Environmentally friendly
Compact lithium-ion battery for years of reliable power
Plant, maintain, and harvest produce with minimal strain and stress
Robust movement control for soft start/stop and overheating protection.
Hands-free operation, all movements, and steering are controlled by foot pedals.
The 4-wheeled design provides stability and easy operator access
Fully adjustable operator platform and head support for operator's all-day comfort and convenience.
Fully adjustable row width and height for a variety of vegetables or berry picking in the row-type planting arrangement.
1-year guarantee against manufacturer's defects.
Extra features available:
LED lights for after-dark work
LTL shipping to anywhere in the USA
Delivered in a single skid with easy assembly!
We Make Efficiently Picking Strawberries Simple
Tell us about your needs and goals.
We help find the solution that's right for you.
We provide a quote with purchasing and shipping details.
Purchase your machinery and revolutionize your operation!
Why Work With Harvest Pro Mfg?
With over 3 generations of experience in the manufacturing and produce industries, Harvest Pro Mfg has the experience and ingenuity to take your operation to the next level!
A Strawberry Picker Farmers Love to Use!
What if you could boost profits with reduced labor and enhance productivity while sparing your aching back, all with one innovative machine? Consider our strawberry picker. Undoubtedly, spending hours hunched over planting or picking is a drain on your time, your back, and your profits. It doesn't have to be that way!
This strawberry picker is designed with strawberry harvesting and the produce farmer in mind. Lightweight yet rugged, solar-energized but powered with a lithium battery for all-weather operation, and compact yet offering ample storage space for hours of row life. You'll soon see why we call it your Row Hand—it's poised to revolutionize your approach to strawberry harvesting and make a significant difference in your farming efficiency.
The strawberry picking machine is propelled by dual 24 V, DC gear motors, delivering direct drive power to both front tires. Its aggressive, bar-type tread effortlessly conquers various field conditions. A disengage lever allows the strawberry picking machine to be easily moved in the event of mechanical issues.
Controlled via foot switches, travel speed, and steering leave the operator's hands-free for tasks like harvesting, weeding, planting, and pruning. The high-quality control system ensures precise management of the machine's speed, ranging from a slow crawl to a brisk pace for efficient movement between locations. The operator platform's unique design and adjustable features cater to different crop heights and operator sizes, enhancing visibility and maneuverability. Power steering, operated by foot pedals, ensures hands-free control, with a sharp turning radius for quick row-end turns.
A strategically placed picking tray, adjustable for proximity to the harvested crop, facilitates swift placement of picked items. The machine's wide-open frame design accommodates various crops and row spacing, with easy adjustments possible without tools. A roof-mounted solar panel continuously charges the lithium-ion battery during daylight hours, ensuring uninterrupted operation. The lithium battery pack, with a removable and rechargeable feature, outperforms lead acid-type batteries in weight and charge cycles. Convenient trays at the rear provide storage for additional produce.
Most adjustments can be made without tools, facilitating efficient changes in operators or applications. Investing in this strawberry picking machine transforms a once labor-intensive task into an enjoyable experience, eliminating the strain associated with traditional harvesting methods.
We offer a variety of equipment for produce farmers, strawberry farmers, poultry farms, and much more!